Series CLP Conductivity Level Probe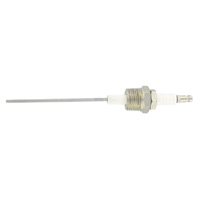 Low Cost, Compact Design
The Mercoid Series CLP Conductivity Level Probes are used to determine the presence of a conductive liquid at a set level by sensing conductivity. The Series CLP is coupled with the Series TSWB Temperature Level Controller for a complete level control system. These probes allow for the measurement of conductivity between the probe fitting and end, which is isolated by a ceramic insulator, or between the probe ends of two probes. The CLP can be mounted in any orientation in a tank, tee fitting, or any compatible threaded port. The probe end is solid stainless steel allowing substantial resistance to heat and corrosion.
Specifications
Service: Conductive liquids compatible with wetted materials.
Wetted Materials:Probe End: 430SS; Insulator: ceramic; Fitting: nickel-plated iron; Seal: silicone.
Temperature Limits:392°F (200°C).
Pressure Limits:87 psi (6 bar).
Electrical Connections:Snap-type post.
Process Connection:1/2″ NPT.
Mounting:Threaded port, any orientation.
Weight:2 oz. (57 g).
Model CLP-1 Conductivity level probe, 1/2″ NPT.